All the mechanical equipment necessary for earth and rock construction projects, pavement construction and maintenance, mobile lifting handling and unloading operations and various construction projects are called construction machinery. Common construction machinery includes excavator, forklift, loader, grader, roller, crane, roadheader and high-altitude working car, etc. They are widely used in national defense construction projects, transportation construction, energy industry construction and production, mining and other raw material industry construction and production, agriculture, forestry and water conservancy construction, industrial and civil construction, urban construction, environmental protection and other fields.
Construction machinery is an important part of the equipment industry, plays a very important role for our country economic construction. From the perspective of market revenue, according to the data of China Construction Machinery Industry Association, the business revenue of China\'s construction machinery showed a continuous growth mode during 2017 to 2022. In 2021, its market revenue exceeded $139.46 billion for the first time, and continued to rise to $146.48 billion in 2022, with a year-on-year growth of 5.03%. The compound annual growth rate from 2017 to 2022 is 12%.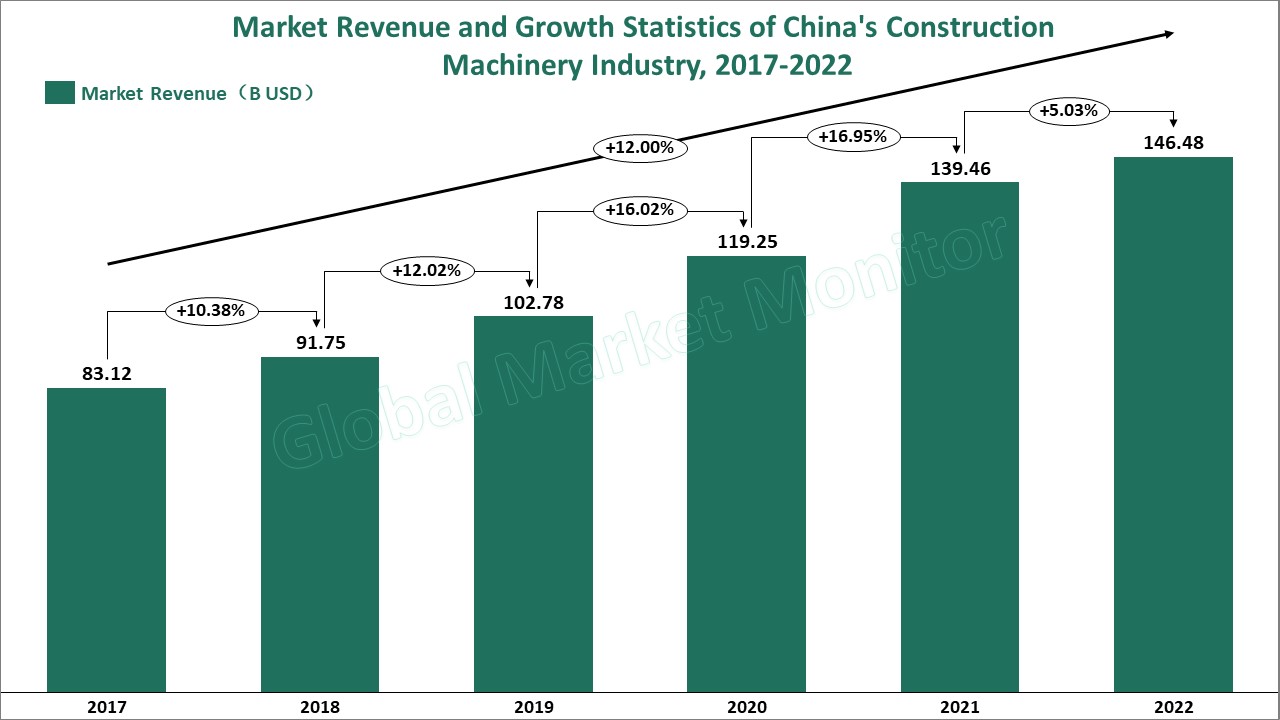 Source:Construction Machinery Industry Association of China,Market Monitor Co.,Limited
In recent years, with the rapid development of China\'s construction machinery industry and continuous breakthroughs in product and technology research and development, Chinese product genres have basically taken shape overseas, Chinese products have been widely used and recognized in overseas markets, and their international influence has been further enhanced. According to statistics, China\'s export of construction machinery decreased due to the epidemic in 2020, and then increased to $34 billion due to the gradual recovery of the economy in 2021. In the first half of 2022, China\'s import and export volume of construction machinery reached $21.391 billion, up 25.2% year on year. Among them, the import amount was $1.50 billion, down 26.7% year on year; Exports amounted to $19.89 billion, up 32.3% year on year.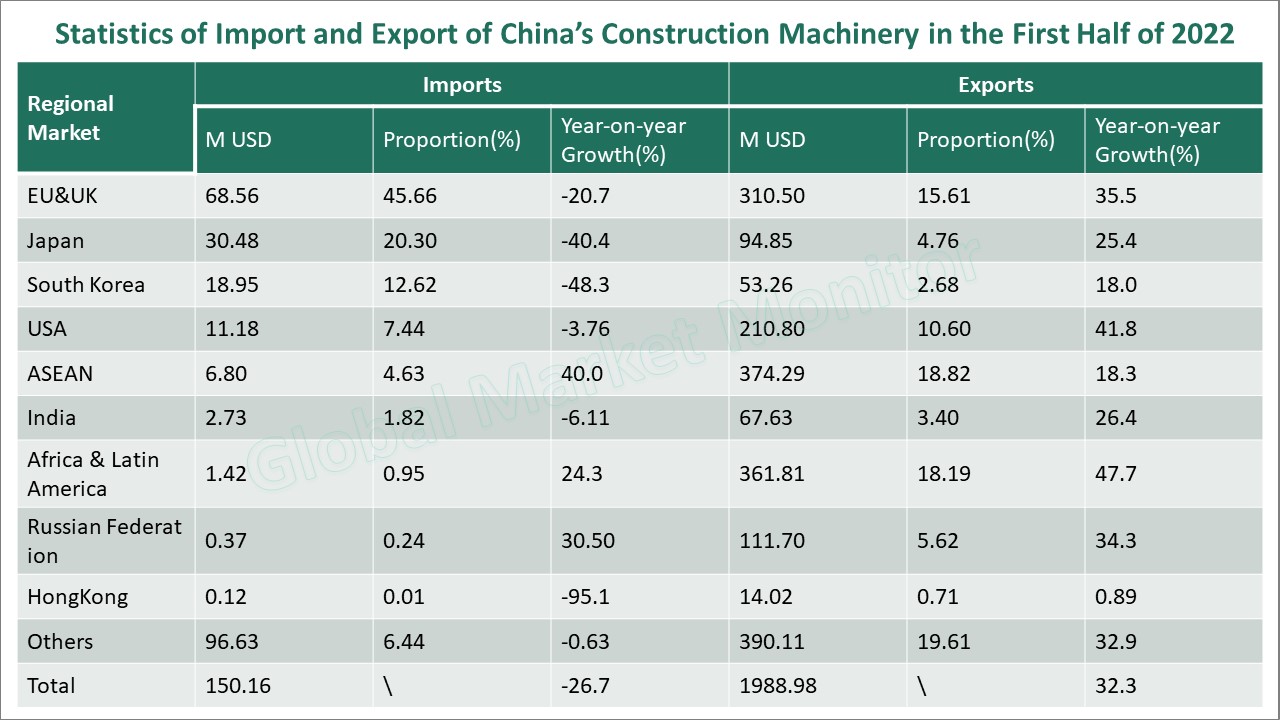 Source:General Administration of Customs,Market Monitor Co.,Limited
Since 2022, the construction machinery industry has been practicing the concept of green development, carrying out technological transformation aiming at intelligent manufacturing and green manufacturing, comprehensively promoting new environment-friendly coating technology, seizing the cusp of emission standard switching, and actively promoting industrial transformation and upgrading. At present, green development mainly refers to improving the energy efficiency of products, promoting the recycling of resources and reducing the emission standards of products. Promoting the development of these three aspects can greatly improve the market competitiveness of enterprises and inject vitality into the long-term development of enterprises. In addition, with the non-road mobile machinery such as excavators and loaders switching from "National III" emission standards to "National IV" emission standards, green development has a vital role for the construction machinery industry. In addition, in order to promote China from a manufacturing country to a manufacturing power, digitalization is also a new track for the development of the future construction machinery industry.