Digital human is also known as virtual human, virtual image, virtual digital human, etc. It refers to the digital image that exists in the non-physical world and is built based on CG technology and artificial intelligence technology and is close to human image. It has the appearance, behavior, and characteristics of anthropoid or real person, can carry on natural dialogue and interaction, and has certain intelligence ability. The representative subdivided applications of digital human include virtual assistant, virtual customer service, virtual idol/anchor, etc.
According to different social functions, Digital Human can be mainly divided into service digital human and identity digital human. Service Digital Human have functions, can replace real people service, complete content production and some simple work, and reduce the cost of the existing service industry. Identity type digital person has identity, most of which is presented by virtual IP or idol, and can provide the core interactive intermediary of human for the future virtual world.
As an important carrier of interaction with the virtual world, Digital Human can be widely used in games, medical treatment, entertainment, e-commerce, education and other fields. For example, in the education industry, virtual digital person technology can be used to record courses; In the e-commerce industry, virtual digital human technology can be used to sell goods live; In the medical field, virtual digital human can be used for medical tests; In the game industry, you can create your own avatar spokespeople. Since 2020, digital human have been widely applied in cultural and entertainment fields such as live broadcasting, variety shows, and even traditional sports fields such as the Beijing Winter Olympics. Benefiting from the progress of 5G, VR/AR, cloud computing, real-time rendering and other technologies, the personalized customization and intelligent interaction capabilities of Digital Human are enhanced, and the application range is becoming more extensive, and the market scale is growing rapidly.
According to the data, the core market size and driving market size of China\'s digital human in 2021 are 6.22 billion yuan and 107.49 billion yuan respectively, and it is expected that the market size will reach 20.52 billion yuan and 333.47 billion yuan respectively in 2023, showing a strong growth trend.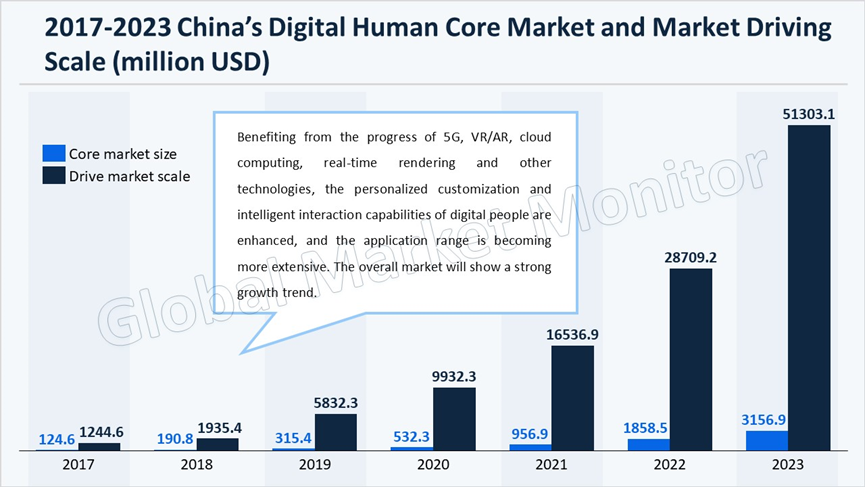 Source: Market Monitor Co., Limited
Virtual human image in product design has strong plasticity, combined with artificial intelligence technology and other cutting-edge technology, can make virtual anchors, digital employees, virtual idols, and other new forms of business to meet the diverse needs of users, generate huge market opportunities, promote the rapid development of the virtual human industry.
The TOP10 applicants for the number of patent applications in the field of digital human in China are NetEase (Hangzhou) Network Co., LTD., Tencent Technology (Shenzhen) Co., LTD., Beijing Dajia Internet Information Technology Co., LTD., Beijing Zitiao Network Technology Co., Ltd., Vivo, Beijing Baidu Netcom Technology Co., LTD., OPPO, and TikTok Vision Ltd, Guangzhou Fangsi Information Technology Co., LTD., Huawei Technologies Co., LTD. Among them, NetEase (Hangzhou) Network Co., Ltd. has the largest number of patent applications in the field of digital human with 1,535 patents, while Tencent Technology (Shenzhen) Co., Ltd. ranks second with 1,295 patents in the field of digital human.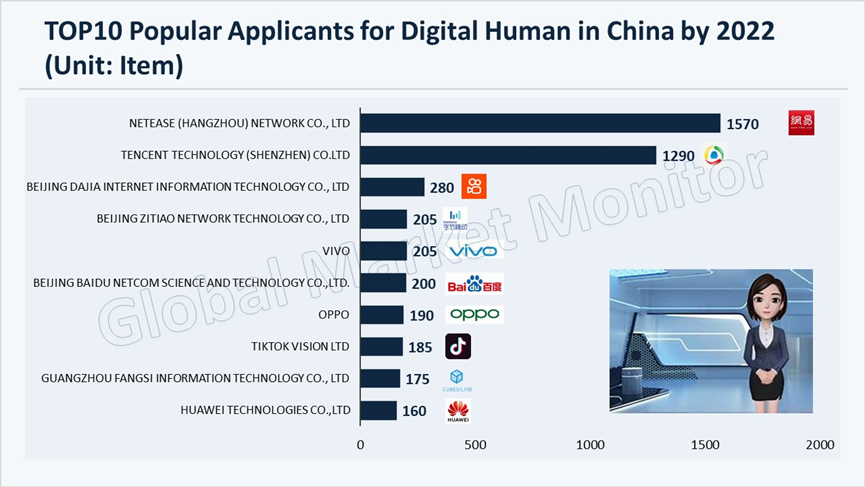 Source: Market Monitor Co., Limited
Digital human is regarded as the core assets of virtual world and the foundation of metaverse development. The progress of artificial intelligence and virtual reality technology will drive the development of digital human industry. A few public companies have recently announced plans to merge ChatGPT with their corporate Avatars to create more intelligent, personified avatars. In the long run, digital human/virtual digital human is an important component of the metauniverse, and is also one of the important applications of artificial intelligence technology in the metauniverse. It will continue to evolve with the development of the metauniverse. In the future, digital human that is more intelligent and more capable of real-time interaction will undoubtedly be an important development direction, which will create huge economic value.
Copyright notice: This article comes from Market Monitor Co., Limited. If there are content, copyright or other problems, please contact info@globalmarketmonitor.com, we will communicate and deal with it in time.