According to data released by Household Appliances Association of China, the main business revenue of China\'s home appliance industry reached $26.92 billion in 2022, up 1.1% year on year, thanks to the acceleration of the transformation of home appliance enterprises to the middle and high-end. The total profit reached $21.82 billion, up 19.9% year on year.
According to other data, several subcategories with good growth in the household appliance market in 2022 include electric steamers, air fryers, sweeping robots and floor washer, with sales growth rates of 33.15%, 97.22%, 9.91% and 27.02% in offline channels, respectively. Sales growth rates of online channels were 54.83%, 49.2%, 1.2% and 45.19%, respectively.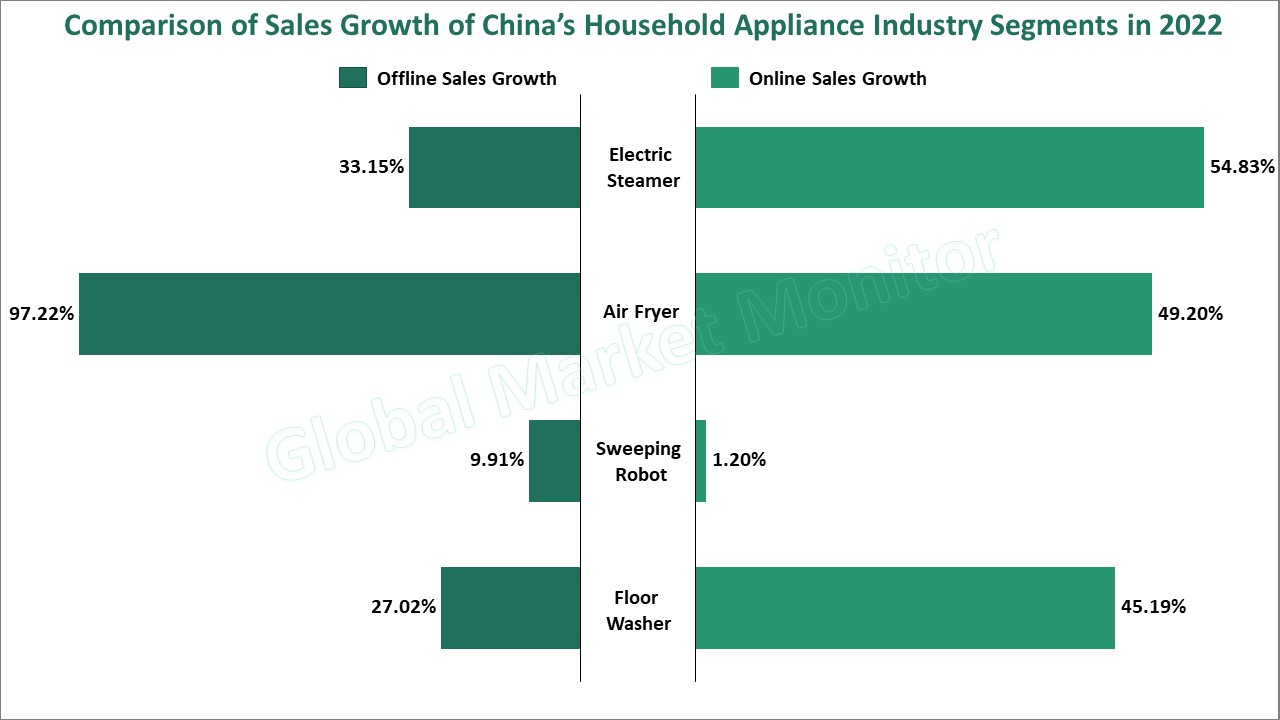 Source:Home appliances association of China,Market Monitor Co., Limited.

On the whole, the rapid growth of electric steamers, air fryers, sweeping robots and floor washer is due on the one hand to the fact that compared with traditional household appliances such as refrigerators and washing machines, these emerging categories have limited market holdings and greater development space. On the other hand, these categories meet consumers\' demands for partial scenario-based products, such as sweeping robots and floor washing machines, which are closely related to consumers\' home life.
In July last year, the Ministry of Commerce and 13 other departments jointly issued the Notice on Measures to promote the consumption of green smart Home Appliances. The policy measures mainly focus on carrying out the trade-in of old home appliances and sending home appliances to rural areas, promoting the standardization of full-link services, recycling of used home appliances and consolidating rural power grids. In August of the same year, the Ministry of Commerce launched the "2022 National Household Appliances Consumption Season". In this context, home appliances market three leading enterprises have achieved better performance. Data show that in the first three quarters of 2022, Midea Group\'s revenue and net profit growth rates were 3.45% and 4.33%, Gree Electric Appliances\' revenue and net profit growth rates were 6.77% and 17%, and Haier Zhiji\'s revenue and net profit growth rates were 8.91% and 17.26%, respectively.
At present, the household appliance industry is in the process of transformation and upgrading, from the original development mode of pursuing scale to high-quality development mode. On the one hand, the household appliance market continues to develop in the direction of intelligence and science and technology, and there will be many new technologies, new products and new applications in the market. On the other hand, the home appliance market will be more fashionable, there are a lot of Internet celebrity type home appliance products.
In addition, home appliance enterprises are also accelerating to the high-end transformation. Industry professionals believe that high-end, internationalization, and technology are the three major efforts of domestic household appliance enterprises in the future. The high-end transformation includes high-end products and high-end brands. At present, some household appliance enterprises have achieved breakthroughs in this respect, and the most representative enterprises are Haier, Midea, Hisense and so on.