Leisure food mainly refers to packaged food, a category of fast-moving consumer goods, besides the staple food that people eat at leisure and rest. It mainly includes baking food manufacturing, candy, chocolate and honey cutting manufacturing, convenience food manufacturing, canned food manufacturing, agricultural and sideline product processing, meat products and by-products processing, vegetables, fungi, fruits and nuts processing, surimi products and aquatic products dry curing processing, etc. The leisure food industry leisure food consumption scene, covering a large range, has the effect of killing time, a happy mood.
With the rapid development of China\'s economy, per capita disposable income has risen rapidly and people\'s living standards have improved. With the upgrading of consumption, snack consumption is no longer the demand of consumers to satisfy hunger. Now leisure snack has been upgraded to daily essential consumer goods, and scene consumption is gradually strengthened, which brings a new growth point to the consumption of leisure food. At the same time, consumers\' demand for the types and quality of leisure snacks is also constantly improving.
From 2011 to 2018, China\'s snack food industry achieved rapid expansion, with an annual compound growth rate of 12.3%. In 2018, the market size of the snack food industry reached 1,029.7 billion yuan, with a year-on-year growth of 12.0%. From 2020 to 2022, with the efficiency of fast food stores, there will be a sudden rise. Taking busy snacks as an example, there will be 1200 new stores in the whole year, and the total number of stores in China will exceed 2000. The retail turnover of stores in China will reach 6.445 billion yuan. Therefore, in recent years, China\'s snack food industry will show a long-term stable growth trend. By 2021, the size of the national snack food market will grow to 1401.5 billion yuan, with a year-on-year growth of 7.9%. As the disposable income of Chinese residents increases year by year, it is expected that the market size of China\'s snack food industry will continue to grow in the future.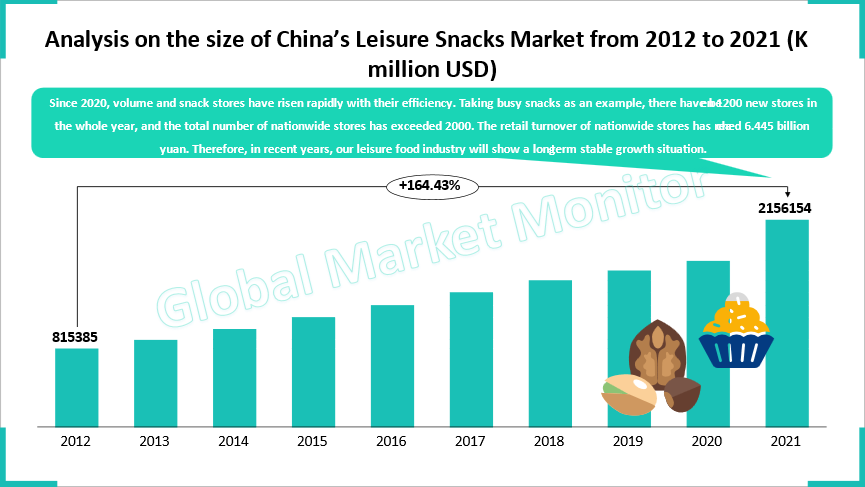 Source: Market Monitor Co., Limited
China\'s snack food industry is rich in snack products, and drinks and beverage products account for the largest proportion, accounting for 27%. The following products were meal replacement products, meat snack products and nuts stir-fried products, accounting for 18.9%, 13.5% and 10.8%, respectively.
Sales channels of leisure food can be roughly divided into food stores and markets, supermarkets and convenience stores, network channels and other channels. At present, offline channels are still the main channels for leisure food sales in China, among which food stores and markets, supermarkets and convenience stores account for 83% of the total sales channels, while online channels only account for 13%. With the continuous development of online e-commerce and the change in people\'s consumption habits, traditional sales channels are gradually changing to modern ones. Online shopping will become mainstream, and the sales of leisure food on e-commerce platforms will continue to grow in the future.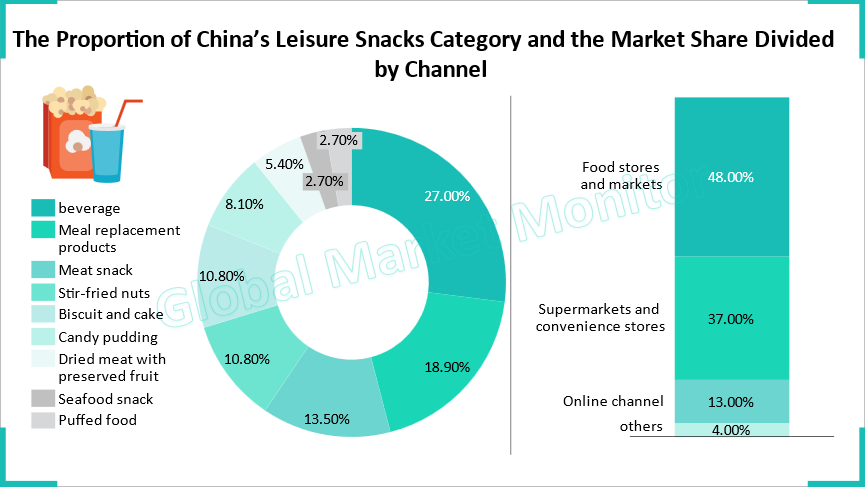 Source: Market Monitor Co., Limited
The structure of consumer groups in the snack food industry presents a relatively obvious feature - young. Consumers aged between 28 and 38 accounts for 46.94%, those aged between 18 and 28 account for 28.17%, and those under 38 accounts for more than 75%, indicating that the consumer group structure is younger. Consumer groups aged 18-28, growing up in a more inclusive and open social environment, have formed a more independent personality with more subjective expression and more personalized consumption pursuit.
In addition, in terms of purchasing frequency, Chinese snack food consumers buy about 5.4 times per month on average, among which 31.3% buy about 5 times per month. Over 60% of consumers buy about 3-5 times per month, which is higher than 86.1% of consumers who buy about once per month.
Source: Market Monitor Co., Limited
Nowadays, while meeting the needs of consumers for entertainment and leisure, leisure food is constantly expanding the consumption scene to attract different consumer groups. The boundary between leisure food and dinner and staple food is no longer clear-cut. In addition, in recent years, with the continuous improvement of China\'s information infrastructure construction, the gradual increase of the Internet and mobile Internet penetration rate, the continuous increase of the number of Internet users, and the rapid development of the online consumer market. The popularization and improvement of the Internet and the increasingly perfect modern logistics system have solved the pain points of small batch and high-frequency consumption of leisure food, greatly reduced the cost of sales and logistics, and improved transportation efficiency. This provides the excellent leisure food enterprises in the industry with further development opportunities, so as to promote the healthy development of the overall food industry.
Copyright notice: This article comes from Market Monitor Co., Limited. If there are content, copyright or other problems, please contact info@globalmarketmonitor.com, we will communicate and deal with it in time.